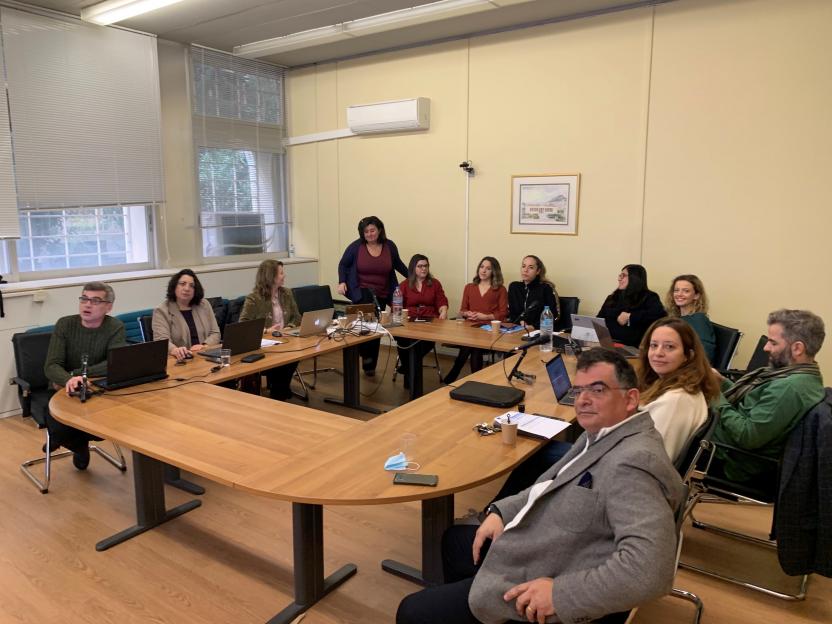 FunShield4Med is a new Coordination and Support Action at European level, funded by the Horizon Europe programme. The project has been launched on 1st of December 2022, with duration of 36 months. The Kick-Off Meeting of its Consortium took place on the 13th of December 2022 by ELGO-DIMITRA at NKUA facilities (Dept of Chemistry) in Athens, serving as the starting point of FunShield4Med project.
The overall aim of the FunShield4Med is the reinforcement of Research and Innovation capacity of the Institute of Technology of Agricultural Products of the Hellenic Agricultural Organisation – DIMITRA (ELGO-ITAP) taking into consideration special provision for upgrading as well on project management and administrative skills of the institute's personnel.
FunShield4Med has been structured to bridge the gap between Greece and advanced EU member states in securing EU consumers from mycotoxin contaminated imported goods. This assumption is based mainly on the fact that most mycotoxin related notifications for EU imports come from northern Member States while concerning products that originate from Middle and Far East countries and Africa. Despite Greece's closeness to the countries of origin for this problem, and the large volumes of imported goods from Greece as an EU entry gate, only a small percentage of notifications come from our country. Mycotoxins are toxic secondary metabolites of fungi, which does not necessarily activate immune system, and thus have no obvious effects to consumers. Unfortunately, though, chronic consumption of food or feed contaminated with mycotoxins can cause adverse effects to human and animal health, which range from gastrointestinal disorders to cancer. Also, considering that mycotoxins are colourless, odourless, and tasteless, and that present extraordinary chemical stability, it is rather difficult to eliminate them through processing or other post-harvest measures. For these reasons it is crucial to identify and eliminate contaminated products from food chain before reaching consumers. FunShield4Med aims at dealing with this problem with the support and guidance of its advanced partners.
The project is led by ELGO-ITAP, with Dr. Pantelis Natskoulis being the Principal Investigator and Coordinator of the Consortium, while Leaders for the rest participants are Prof. Chiara Dall'Asta for UNIPR, Prof. Sonia Marin for UdL, Prof. Charalampos Proestos for NKUA, and Prof. Angel Medina for CU.
To receive further information, please contact Dr. Pantelis Natskoulis (p.natskoulis@elgo.gr) or visit project's websites (https://cordis.europa.eu/project/id/101079173 and https://funshield4med.eu/).
Social media webpages:
  https://www.facebook.com/people/FunShield4Med/100088664186734/
 https://www.linkedin.com/company/funshield4med/?viewAsMember=true
 https://www.researchgate.net/project/FunShield4Med
https://twitter.com/FunShield4Med
Technical information:
- GA Number: 101079173
- Full project title: Shielding food safety and security by enabling the foresight of fungal spoilage and mycotoxins threats in the Mediterranean region under climate change conditions
- Duration: 36 months (01 Dec 2022 – 30 November 2025)
- Estimated Project Cost & Requested EU Contribution: €1,028,062.50 (€646.000,00 for ELGO-DIMITRA)
FunShield4Med Consortium: